Right here in the town of Colorado Springs, the Goodwill has an amazing way of raising money. They collect dolls from the Goodwill stores here in Colorado in places like Woodland Park, Canyon City and also here in Colorado Springs. Then they rent a space and three times a year they hold the Goodwill Dollsale. It is an amazing sale to be at. There are over 10,000 dolls for sale at each one and for a doll collector like me it is like utopia!
The Goodwill Dollsale was started over 20 years ago and for the last 12 years has been headed up by Donna Gardner, Volunteer Services Manager for Goodwill Industries here in Colorado Springs. With the help of about 10 volunteers, this doll project brings in about $10,000 at every sale!

People come from all over the United States come to this two day sale. There are literally hundreds of people that show up looking for that special doll that they collect. The sooner you show up, the better! The sale opens each time at 9am on the designated day. I once was there at 3am with my family, all bundled up with blankets and chairs, sitting by the front door. Most people show up around 6 or 7am to start marking their places in line. Closer to the time of opening it is very common to see about 200 people waiting in line. For us "hardcore" collectors, we have been there for hours and already have our hands on the door. lol It is an amazing feeling to look through the glass windows with the binoculars that you brought from your son's room (lol) and see the dolls you want sitting on a table. Your heart races and your knees go weak. What's better is that there are about 10,000 other dolls in the building that you haven't seen yet and the best ones are usually hidden under piles and piles of other dolls.

The first time I saw the sale I was actually thrift shopping. I had just moved to town and was searching out thrift stores. I saw a sign that said "Goodwill Dollsale" and thought, "what the heck? I have time to stop." I went in and my knees nearly gave out on me! There were about 20 long tables set up with piles and piles of dolls. They were everywhere! Me being an 80's toys lover thought I might be able to find SOMETHING right? Well I turned around and right in front of me was a table that had 7 Strawberry Shortcake ragdolls, 2 Lime Chiffon Ragdolls, an Apple Dumplin Ragdoll, an Orange Blossom ragdoll, and some BlowKiss dolls. I scooped them up trying not to cry too much (yes I did get teary) and when I turned around there was a WALL of Care Bears. I almost fell over! I brought home over 40 Care Bears that day, every one of them vintage plush. I thought for sure I was dreaming and that I couldn't possibly get any luckier until I talked to someone else and found out that this sale is EVERY 4 MONTHS!!!! I went home and cried. It was beautiful and I couldn't contain myself. lol I have been to a few sales that I come home with nothing, and there are times I come home with my SUV packed full. Prices range from $1.00 to $40.00 for most items. The highest item sold so far was a Madame Alexander Mr. Men doll for $500. There are new dolls and antique dolls, porcelain dolls and Beanie Babies, Barbies and doll houses, McDonald's toys and vending machine toys. There is something for everyone!

What can possibly make these sales any better for me? I have a daughter now and she is in love with dolls too. :) She loves these sales as much as I do, maybe even more. I went into labor the day before a dollsale and one of my dearest friends went to get me some dolls. :) I love you Jean! (who I met at a Dollsale!) The day I brought Ashley home from the hospital we went to the DollSale first thing so her first experience in public was with dollies. Brain washing? Nah.

Like I mentioned, the sale lasts two days. The first day is a Friday with the second day being Saturday. On Saturday afternoon there are special sales to sell the dolls out quickly. At about 2pm, they ask everyone to wait outside and when they open the doors again, the dolls are half price. Around 4pm they ask everyone out again and when the doors are opened again you get to fill up a huge Goodwill bag (the ones almost as tall as your waist) for $3.00. Everything you can fit in the bag for $3.00. It is awesome. Most of the collectors items are gone at this point but there are still thousands of dolls left. Some people wait just for this time to show up to buy as many dolls as they can for only $3.00. There are about 100-200 people that rush in for this sale. You have to be quick, get them before they are gone. When every doll is gone, the doors close. This part of the sale lasts approximately 15-20 mins and all of the dolls are gone. It is amazing.

Okay, so are you intriqued? Planning your next vacation to Colorado Springs? lol Here are some pictures of my last experience at the Goodwill Doll, and you can decide for yourself!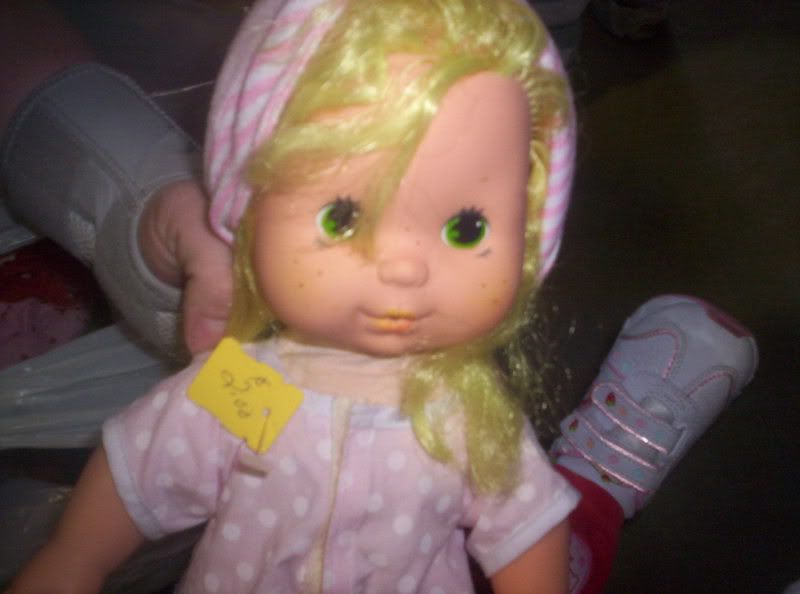 Lemon Blowkiss for 2.00



So, if you ever want to visit just let me know! See you at the Dollsale!

NOTE---The Goodwill of Colorado has made a decision not to hold the Dollsale anymore. It is so sad that we won't have the piles of dollies anymore but if they ever decide to bring it back I will post an update. Thank you Goodwill for the years of wonderful memories, the friends I have made and the dollies I will always cherish. :-)